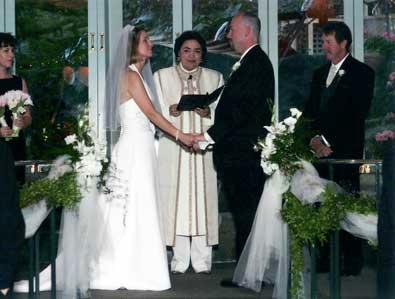 Sheila & Joseph Armshaw, Walnut Creek, CA
Lynn is a minister, Affiliate, International Centers for Spiritual Living and as such officiates at weddings, funerals and christenings. She is also a public spearker, writer of the Record Searchlight's "Voices of Faith" once every three weeks and teaches a variety of personal and spiritual growth seminars and workshops.
The Wedding Ceremony is customized especially by Lynn to fit the couple's personal values and expressions of love. The ceremony may include:

Poetry
Music
Personal Expressions of Love
Cultural Practices
Other Practices

Ceremony Location is imperative in creating the environment which honors the personalized expression of love. Some sites in or near Redding, California which are recommended are:

Sanctuary of Center for Spiritual Living-Redding
Sundial Bridge
Mt. Shasta Community Park
Rose Garden of Center for Spiritual Living-Redding

(Small area only) Redding, CA

Wedding Rock at Patrick's Point State Park
Fall River Mills, CA
Lazy K Ranch (Pond Side Setting)
Old Shasta Park
Lynn also officiates at Funerals, Christenings, Blessing and Releasing Ceremonies. She customizes each ceremony to meet the personal needs of those involved.
Rate: $250
Includes one-hour pre-wedding counseling consultation, rehearsal and wedding in Redding, CA area.

Additional Fees:
For ceremonies outside of the Redding area a fee is $50 per half-hour for travel plus mileage. Additional expenses for accommodations and meals may be required.
Go to Center for Spiritual Living-Redding